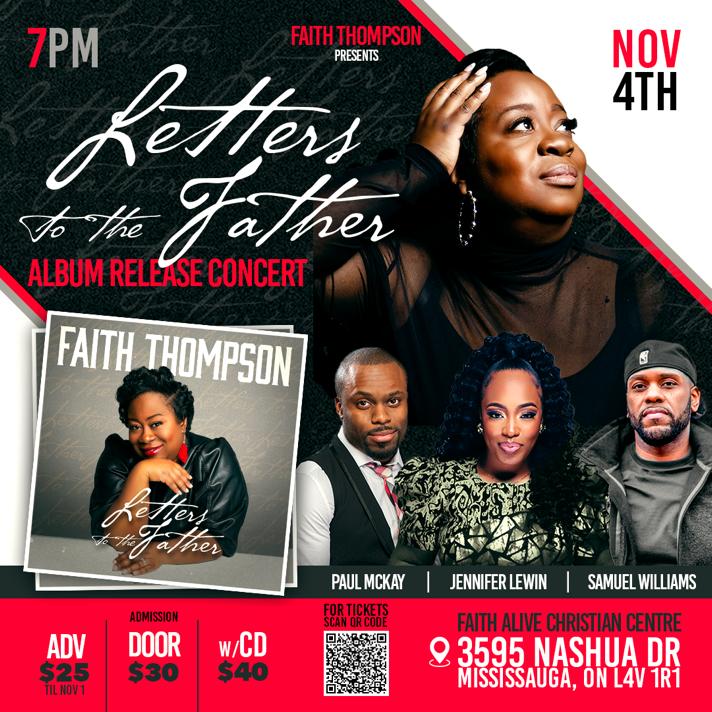 Toronto, Canada --  Faith Thompson is finally releasing the long-awaited Letters to the Father album!!  Faith was a songwriter and a vocal leader for Global Kingdom Ministries, and the Jesus in the City events.   Faith is also a member of the 2020 Gospel Music Association Canada Covenant Award-winning Powerhouse Fellowship Soul Choir. 
Faith is an artist on the Toronto, Canada-based Impact Gospel Recordings record label distributed by IndieBlu Music a division of MNRK Nashville.  Impact Gospel Recordings was founded by Shawn Cotterell, founder of the multiple award-winning Powerhouse Fellowship Soul Choir. 
The newest release from Faith is the hot album LETTERS TO THE FATHER. All songs were written by Faith Thompson and produced by Sam Williams. This album includes hits like "Nothing Without You" , "Better" and Safe. Faith will also be debuting a live version of Sacrifice and two new songs from her next album to be released in early 2025. 
Her rich vocals are soulfully laced with lovely passionate tones and warm, raspy hints.  Faith has recently released three singles and now offers a new uplifting song of resilience and assurance.